Snow has arrived in Sierra Cedars.  The snow plows have been busy removing around 17 inches of snow that has already fallen over the last couple of days.  Come and enjoy!
Hopefully you have already winterized your cabin.  When you leave please remember to Turn Off Your Water and Drain properly!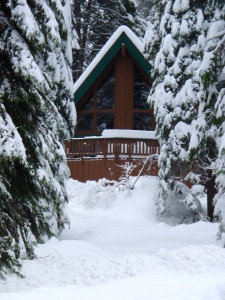 At the present time (11/27/16) the Sierra Cedars water system has levels of Coliform Bacteria above the drinking water standard.  This is not an emergency, but you have a right to know what's happening and what is being done to correct the situation.  The following link will give you more information.